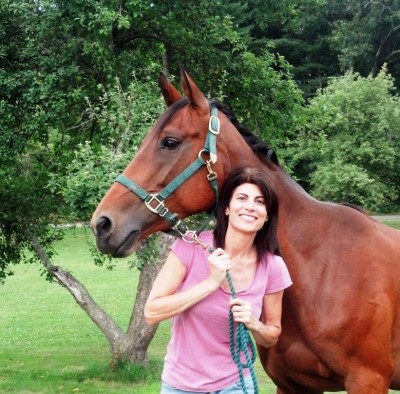 Welcome back fellow equestrians! Let me fill you in on what I've been up to since I interviewed Cian O'Connor for my last column.
Come spring, it seems both me and my horse, Jaliska, are lame—her with a sore back and me with a tendon tear on my right arm. So, this summer becomes a time of rehabilitation, with Jaliska undergoing consistent vet care, and me prepping for and ultimately recovering from surgery.
Unable to ride, I'm allotted the role of Jaliska's "groom" where I spend the majority of my time brushing and hand walking her around the property, along with my personal favorite, meeting her in the evenings for what I refer to as late-in-the-day turnout.
After a busy day of work for me, and play for my two kids, I leave them to their favorite show, after dinner and a round of monopoly, and hit the road to the barn.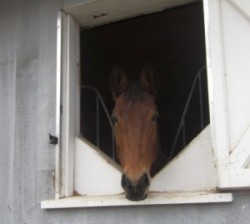 Upon hearing my voice, Jaliska swings around in her stall, straining her neck out of the opening to see me. She whinnies loudly – her way of letting me know that there is no one else on Earth that she would rather see.
I enter her stall, scratch her nose and slide on her halter. I then lead her to her paddock where I promptly let her loose. I head over to the table set where I sink into one of the comfy chairs – perfectly positioned to watch my beautiful mare prance about, enjoying her late-in-the-day freedom.
I kick back and relish in the beauty that only Mother Nature provides.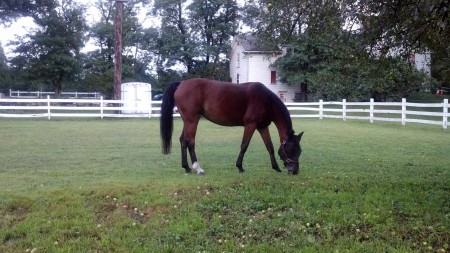 Actually, it seems that this is the only time of day that I stop running about from one task to the next, my body responds by melting into the cushions like butter on hot toast – it feels delicious.
Often, I am greeted by a barn mate who pulls up a seat and proceeds to chat about the progress made in their last lesson, or how they fared at a show. I take great delight in these evening conversations—in all that is horse.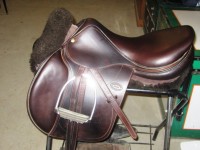 Sometimes I clean my tack while Jaliska grazes. It's something I love to do, but I'm always so pressed for time that I never seem to do as good a job as I'd like. So on evenings like this, I get out my cleaners, conditioners and balms and go-to-town on my bridle and reins, boots and chaps and saddle. Personally there is nothing like the smell of saddle soap and leather combined with the scent of summer to bring happiness to my soul.
When my work is done, I steal a few more solitary moments watching my horse chomp happily away at grass mixed with sweet clover. I rest my head on my hands against the fence post and take it all in—heaven on Earth.
But alas all good things must come to an end, as the sun drops below the horizon and the moon takes over, Jaliska gets nervous and heads for the in-gate. "Time to go in 'Mom'," she seems to say, in not so many words. So I snap the lead to her halter and in a matter of seconds she is back in her stall—with a few carrots in her bucket for a bedtime snack.
As my headlights hit the pavement; the hay fields of Sherborn, MA cast shadows on my left and right, guiding me home.  I feel restored – it seems being Jaliska's groom has its benefits.